Whitewater's Expert Solutions for Every Dewatering Project
When it comes to excavation projects that extend beyond the water table and require reliable site dewatering services, look no further than Whitewater. We're recognized as a leading dewatering designer and service provider, offering tailored solutions to meet your unique project needs.
Efficient and Effective Dewatering Services
At Whitewater, we understand that achieving the desired drawdown in shallow excavations often calls for single-stage well-point dewatering systems. However, for deeper excavations, the solution may involve a second stage of well-points or a deep well system. Our team of professional engineers collaborates closely with environmental consultants, reviews geological reports, and delivers comprehensive dewatering packages. These packages include a dewatering plan, equipment specifications, filtration methods, and groundwater monitoring.
Proper installation of well-points or deep well dewatering equipment, coupled with continuous monitoring, results in increased system efficiency and significant cost savings. Our highly trained staff ensures your project meets its goals within the specified timeframe.
Diverse Dewatering Equipment and Noise-Sensitive Solutions
Whitewater offers an extensive range of dewatering equipment, including well-point dewatering pumps, submersible deep well pumps, and piston pumps, all powered by either diesel or electric motors. What sets us apart is our commitment to environmental considerations. Our equipment boasts a low decibel rating of 56 dBA at ten meters, making them ideal for noise-sensitive environments.
Whether you're planning a project or facing an emergency, Whitewater is your reliable partner for efficient and effective well-point dewatering solutions, also known as sand-point dewatering and deep well dewatering.
Understanding Dewatering
Dewatering, also referred to as Sandpoint Dewatering, is an exceptionally efficient method for controlling groundwater during excavation. It involves redirecting groundwater, lowering the water table, and reducing water content in foundation soil to ensure the stability of assets such as water, gas, or oil pipelines.
Dewatering is particularly effective in stabilizing soils that contain silts or sandy silts. This process is accomplished by creating a vacuum through pumps, which raises the hydraulic gradient of the casing flow to the well point/header. This vacuum is highly effective in drawing down groundwater, even in impermeable soils, to depths of 18 to 25 feet.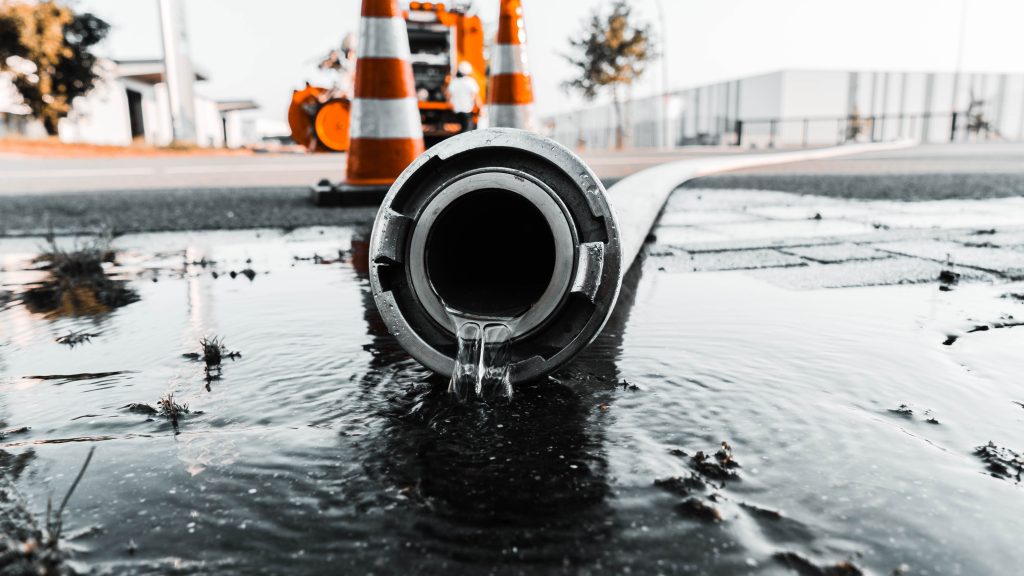 The Science Behind Our Success
At Whitewater, our engineers and technicians focus on the intricate connection between soil and water. Our approach takes into account groundwater hydrology, water flow characteristics, and subsurface soil conditions. By reducing pore water pressure, we enhance soil stability, strength, slope stability, and bearing capacity—critical for long-term infrastructure like water and oil pipelines.
Beyond civil engineering, well-point dewatering systems find applications in mining and other sectors. They offer various advantages, including preventing frost heaving during excavation, stabilizing slopes, mitigating erosion, and enhancing foundation soil strength.
Tailored Approaches for Different Soils
Whitewater understands that soil conditions can vary significantly. Our designers employ distinct approaches for coarse and fine-grained soils. While coarse-grained soils may be dewatered by gravity drainage into ditches, slumps, and wells, fine-grained soils require more complex methods like electro-osmosis, big casing boreholes with submersibles, and well-point dewatering.
In some cases, a combination of these methods, along with geosynthetic filtration, is the key to success. Whitewater engineers incorporate filtration into their designs to ensure the removal of particulates, even in highly turbid groundwater conditions.
Conclusion: Whitewater's Expert Dewatering Solutions
Whitewater offers a wide array of engineered dewatering solutions, with a strong emphasis on well-point dewatering. Our commitment to efficiency, environmental considerations, and tailored approaches makes us your trusted partner for projects of all sizes. Whether you're dealing with challenging soil conditions or noise-sensitive environments, Whitewater has the expertise and equipment to meet your needs. Contact us today to learn more about how we can master dewatering for your project.