Sludge Pumping, Water Transfer, Dewatering, Fluid Storage and Fresh Water Supply
Construction Dewatering and Pumping Services
Construction sites are challenging places to work, from roads and bridges to ditches and dams, as many projects may encounter certain obstacles. Construction dewatering may be required for some sites, which is the process of pumping out excess water from the ground or from the surface. Wells or sumps can be used to temporarily decrease groundwater levels to enable for excavation under dry and stable circumstances below the natural groundwater level during building projects.
Techniques for Construction Dewatering
A wide range of pumps, including submersible pumps, self-priming pumps, borehole pumps, and others, are employed in the construction industry for pumping and dewatering purposes. The pump selected, however, is always dependent on the specific task requirements.
Any building project will suffer if the wrong dewatering technique is used. Every job has its own unique set of circumstances, thus it is important to thoroughly examine each one. In order to make sure you get the most bang for your buck, we put our pumps through rigorous testing in a variety of environments.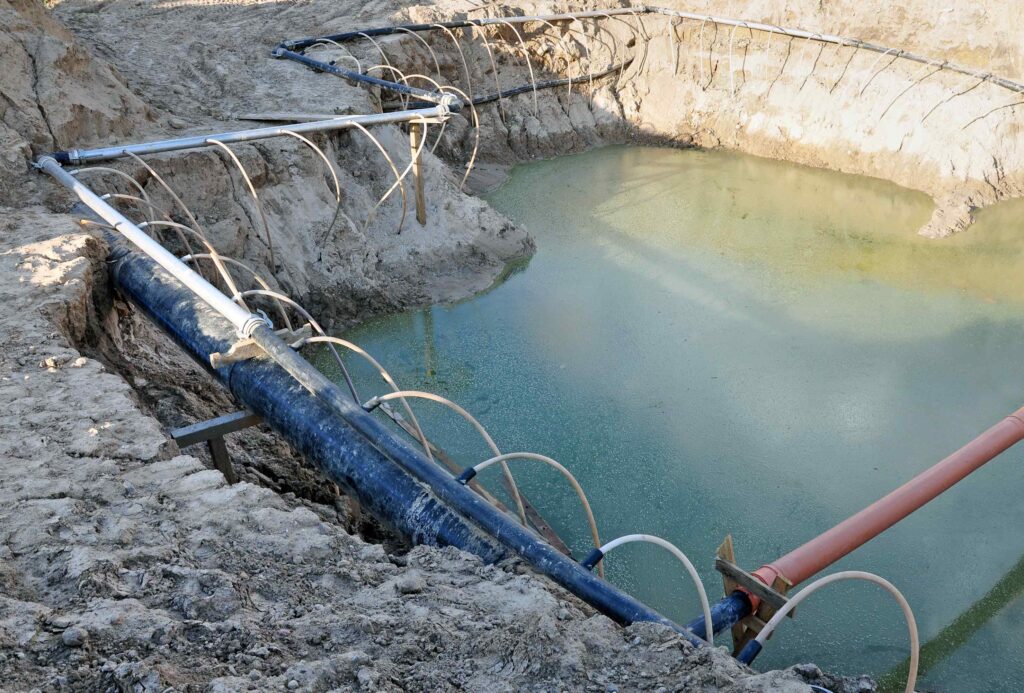 The Importance of Using the Correct Dewatering Techniques
Unwanted water on a construction site can put your workers and your project at risk, as well as raise your expenses and lengthen the completion time. When excavating the surface or doing dry site building work, it is imperative to apply the proper approach to regulate, manage, and remove water. Since geology and hydrology differ greatly from one area to the next, this is an even more critical consideration.
THE PRIMARY DEWATERING TECHNIQUES
Wellpoints, deepwells, bypass, and flood control are all examples of construction dewatering strategies. Submersible pumps are used at wellpoints and deepwells, while bypass and flood control pumps are positioned in the dewatered region. Take a look at these tried-and-true methods.
Wellpoints
In Wellpoint, wells are dug around the excavation area and submersible pumps are put in the well shaft. Using a header pipe, the groundwater is sucked up by the pumps and then dumped into the Wellpoints.
Deepwells
In Deepwell, a single well or a series of wells are dug and equipped with submersible pumps. Deep excavations requiring the discharge of enormous amounts of water are ideally suited to the Deepwell method.
Bypass Dewatering
Dewatering pumps are used to divert sewage away from a damaged part of a sewer system during repairs. The pumps are located upstream of the portion of pipe that has to be maintained. Irrigation and construction projects frequently use the bypass method.
Tunneling Dewatering
Many elements must be taken into account in tunnel building projects. Stabilizing the ground or preventing flooding at the building site requires large amounts of water to be evacuated from the region. There must be a constant supply of coolant water for tunnel boring machines and other drilling equipment. Numerous dewatering pumps of all sizes, from small submersibles to massive devices for large-volume dewatering applications, are required on-site for tunneling operations. 
Flood Control
As the name implies, flood control encompasses all techniques employed to lessen or eliminate flood damage resulting from various sources, such as runoff from storms or severe rains. Managers on building, tunneling or mining sites need to be aware of the possibility of flooding and have pumps that can transport large volumes of water against low head pressure close by. Flooding may have a devastating effect on local communities if water levels in rivers and canals rise. In the event of a storm, towns must have enough flood protection and be ready to respond promptly.
Wellpoint | Deepwell | Bypass | Tunneling
Construction Dewatering and Pumping
Experts in Dewatering, Sediment and Sludge Pumping, and Water Reclamation.
Construction Pumping

and Dewatering
1

Wellpoint and deep well dewatering

2

Site water management

3

Fluid storage

4

Water treatment and recycling options

5

Rapid response

6

Large pump inventory

7

Experienced and reliable field staff
Request A Quote
We'd love to hear from You