TANK CLEANING FOR LARGE PROJECTS
PROFESSIONAL INDUSTRIAL TANK CLEANING
Whitewater provides tank and vessel cleaning services for industrial settings. Every five years, tanks must be inspected and cleaned in accordance with regulations. In order to minimise the amount of time your project is idle, our tank cleaning services are available around the clock. We know it's inconvenient to have to halt operations while cleaning and maintaining them, so we work quickly with a skilled crew to get you back to your day as soon as we can.
Cleaning an industrial tank can present a number of challenges. Obtaining secure access to the tank and removing solids and tough coatings while being unaware of the tank's condition and contents. When you hire Whitewater, you know it will be done right. Our crew has extensive expertise and training. We have access to the widest variety of vehicles and tools in Canada. We use an excellent procedure for every job to guarantee its success.
Our team will first inspect the tank, taking note of its condition and contents, and assessing any safety hazards. Then, we will develop a cleaning plan that suits your specific requirements. Our crew will utilize the latest technology and equipment to remove all solids and coatings quickly and efficiently. Finally, we will dispose of any waste and clean up the site to ensure minimal disturbance to your operations.
Don't Miss Out On Quality Tank Cleaning Services
Investing in professional tank cleaning services is a crucial step in ensuring compliance with regulations, maintaining safety, and prolonging the life of your equipment. Our expert team is fully equipped to handle any size or type of tank, and we will work tirelessly to ensure that the job is done right the first time. We pride ourselves on our reputation for quality work, attention to detail, and exceptional customer service.
Don't risk the safety of your employees or the integrity of your equipment by trying to clean your tanks yourself or by hiring an untrained team. Choose Whitewater for professional, reliable, and cost-effective services that will leave your tanks spotless and your operations running smoothly. Contact us today for a consultation and to learn more about our comprehensive industrial tank cleaning services.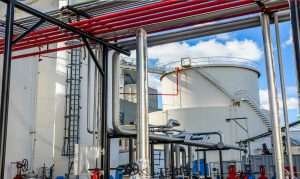 With Whitewater's industrial tank cleaning services, you can rest assured that your tanks will be in the hands of experts who are committed to providing the highest quality services to meet all of your needs. We understand that time is a precious commodity for every business, which is why we work quickly and efficiently to minimise disruption to your operations.
Our state-of-the-art equipment and highly trained crew will ensure that your tanks are cleaned and maintained to the highest standards. We take safety seriously and will ensure that all safety hazards are assessed and addressed before we begin work. Our team will utilise the latest technologies and best practices to remove all solids and coatings, leaving you with a spotless tank that is ready for use.
Whitewater's Promise
At Whitewater, we take pride in our reputation for providing quality work and exceptional customer service. We believe in building long-term relationships with our valued clients, which is why we use only the best equipment and employ skilled professionals to ensure your complete satisfaction.
Investing in our tank cleaning services is not only a smart business decision, it is also a legal requirement to meet industry regulations. Our comprehensive services will ensure that your equipment is performing at its best, prolonging its lifespan and reducing your maintenance costs in the long-term.
Don't take any chances with your industrial tanks; choose Whitewater and experience the benefits of professional, reliable, and cost-effective tank cleaning services. Contact us today to schedule a consultation and learn more about how we can help you meet your tank cleaning needs.
Whitewater also provides many other fluid-related services, such as industrial pumping, which may be more to your liking: https://whitewatermanagement.ca/project/industrial-pumping/